What you will get and learn with this eBook
Over 200 Pages of appetizingly sweet content

With over 200 pages of easy-to-follow useful information and lots of photographs, your cooking would be like a sweet adventure, which will not only make you happy, but also everyone around you.

The Art of making delicious Curries

Curries are heart of Indian Foods. Whether you eat rice, bread, or any other main dish, you will need curries to complement the rich flavour of your Indian food palate.

Fast and easy ways to make tasty Snacks

You are hungry, and in no mood to cook a full meal. No worries. You could prepare some healthy Indian Snacks which will not only make you feel fuller, but also save you lots of time and energy.

Master to cook the varieties of Indian Breads - The real rulers of taste

Most of the Indian Food is incomplete without having a well cooked Indian Bread to go by. Learn to cook tasty Naans, Chapatis, Parathas, and many other breads, which, until now, you have only tasted at the restaurants.

100's of colorful Pictures show you the real secrets of Indian Food Styling

A picture is worth a thousand words. Imagine having 100's of them. How many words would that be worth. Learn the art of Food Styling using them and impress your friends. It's fun, and it immediately puts you as an Expert.

Chutneys, Beverages, Desserts and more

Experience the same dish in different flavours by using contrasting Chutneys, steamy hot or ice cold Beverages, and aromatic Desserts, complementing your personal mood.
I am a big fan of Indian Food. However I did not quite know how to cook it. But with this book, my search for a well-written how-to cookbook is finally over. It's a must have for any Indian Food lover.
Cooking delicious looking tasty dishes is hard. This book makes it easy for you.
After trying just a couple of dishes from the book, I could easily understand the effort put into the recipes presented in this book by Anupama.
Watch This Amazing Book Teaser Video
Take a sneak peak inside
Want to know what's inside? Browse through the screenshots from the book, and get a feel of the contents included in this eBook.
You will find out many remarkable features, and here's how they would help you:
By learning traditional and modern dishes, you can cook deep combinations of food, and please everyone in your family and friends.
Varieties of Recipes from North to South will give you the real taste of India.
The authentic recipes presented in this book will show you the complete Indian Cooking methods, and guide you to make authentic Indian dishes perfectly for any occasion.
Easy-to-follow, step by step instructions will help you greatly in building your cooking skills.
100's of mouth-watering images will make all your senses come alive.
With amazingly wide variety of foods presented, you will be able to create entirely new meals with an adventure and enormous excitement.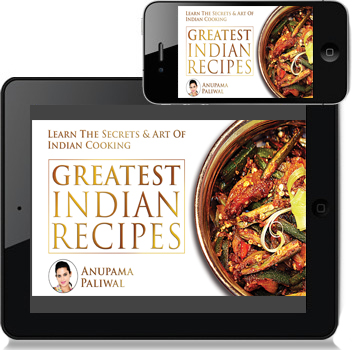 Read it on your favorite device!
Enjoy your eBook on any screen
Whether you hold an iPad, iPhone, laptop, desktop, or even a big screen TV connected with your computer or smartphone, you can now read and enjoy your downloaded eBook on any screen by any built-in or a freely available PDF reader.
The exact same layout, and the same reading experience awaits you.
Learn the secrets and art of Indian Cooking by simply downloading the book to your device and the rest would take care of itself.